Own The Future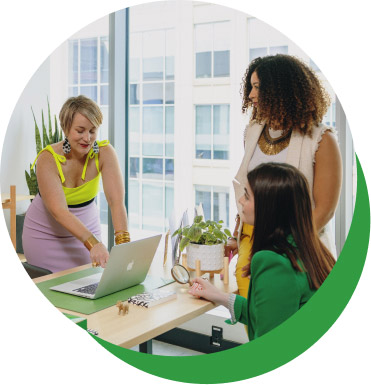 Fierce Lab is an empowerment platform dedicated to helping women own their future. We believe knowledge is our strength and community our champion, which is why we curate personal and informative content to help courageous women blaze a bold path forward.
Content & Community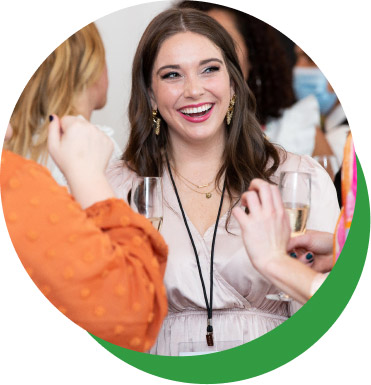 By providing access to on-demand content and the experiences of other women who have lived and learned, we're creating a world where all women can access tools to realize their ultimate potential.
Our Values
We celebrate living in community, authentically. We believe knowledge is power and embrace vulnerability to grow. We are courageous at our core and take action to create our future — each and every day.
Tara's Story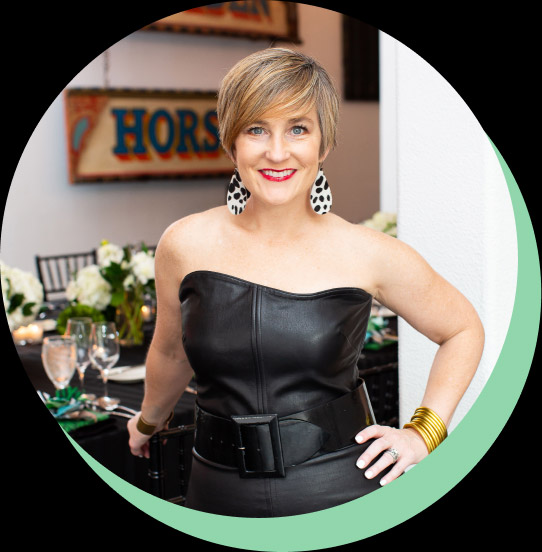 Early in her career
Tara Wilson had big ambitions but found herself stuck without the right tools. Bosses failed her. A support system — in a new city — eluded her. And for the first time in this overachiever's life, she wasn't able to propel herself forward. It took years of trial and error before Tara leaned into curiosity and began taking risks that helped her rediscover her fierce.
Her Commitment
Since then, Tara has been realizing her dreams as an entrepreneur and vocal advocate for self-reliance. So much so that in 2019, she founded Fierce Lab to create easy access to expert community and professional growth.
Fierce Lab Today
What started as a live event and podcast for the modern woman has now transformed into a robust platform of on-demand, curated content and a growing community of 5,000 courageous women.
Get The Download
Is Fierce Lab right for me?
Fierce Lab is for the woman looking to level up at work and in life. If you're looking to be inspired, learn from experts, connect with your community, and challenge yourself to grow, Fierce Lab is for you.
What type of content do you create, and why do you focus on four pillars?
We create content that motivates you to take action toward your goals. We connect you to courageous women who are blazing their own paths forward. We give you the tools you need to find your fierce with content that's always-on and an expert community driving that content.
Want to hear from badass women and their success stories in career development and risk taking? Check out the Fierce Lab podcast. Looking for step-by-step instructions on how to get from point A to point Z in your finances? We've got checklists for that. Need to work through a thought-process or write down a plan of action for your mental health and wellbeing? We've got guides just for you. If you want a quick burst of inspiration and empowerment, we've got articles.
We've identified four pillars — Financial Intelligence, Career Development, Risk Taking and Mental Health + Self Care — that will help you take control of your future and blaze a courageous path forward. Get started now.
Who founded Fierce Lab?
Tara Wilson of Tara Wilson Agency founded Fierce Lab. Learn more about the bold woman behind the brand.
How can I access content?
Go to Membership to get started. Answer a short series of questions about your goals and what's important to you to help us customize the content to best fit your needs. Once you've paid the no-risk annual membership of $120, download the Fierce Lab app on the Apple Store. Use your set up details to access all the fierce content. And remember, you can try it for 90 days. If you don't find value in the content and community, we'll refund your money — no questions asked.
Don't have an iOS phone? Become a Member and use our web-based platform.
What does it cost to become a member, and what benefits do I receive?
To access the bespoke content we create for our members there's a no-risk $120 annual membership fee. That's $10 a month — two coffees or a cheap bottle of wine. With the membership, you will gain access to a variety of content across all four pillars. That means podcast episodes, checklists, guides, articles and Fierce Lab LIVE video content.
At Fierce Lab, you gain access to always-on content, innovative events, an inspirational podcast and expert community focused on four key pillars — money, work, risk taking and self care. Information you need to take control of your future.
Want a taste of what's in store? Sign up for Fierce Lab's newsletter
How often do you hold Fierce Lab LIVE events?
Fierce Lab LIVE is an annual event held each fall, usually in October. What began as a modest-sized but hugely inspirational LIVE event in 2019 has grown in strength and number over the past few years — and it continues to grow alongside our community of 5,000+ courageous women.
Go to Fierce Lab Live to learn more about the event and sponsorship or speaker opportunities.
How frequently do you publish fresh content?
Our content is always-on. New podcast episodes drop on Thursdays, and fresh written content is published on a weekly, rolling basis.
What should I do if I'm interested in becoming an expert contributor or guest?
We offer corporate programming for teams seeking to build internal culture and drive better work outcomes. Through customized experiences based on your team's needs, we deliver tools and information that empower your organization, building confidence in your team members and inspiring new ways to approach work.
Fierce Lab corporate programming includes quarterly workshops with curated speaking events that support professional development — covering everything from creative risk taking and communications best practices to smart goal setting and mental health/self-care techniques. To learn more about how you can bring Fierce Lab to your team, reach out to tara@fierce-lab.com.
Can Fierce Lab come to me?
Absolutely. Fierce Lab "on the road" is available to collaborate for events, webinars, panels, workshops and more. Based on your needs, we develop motivational and skill-enhancing programs that include dynamic speakers, tangible takeaways and measurable results. We work with you to make the experience inspirational and truly game changing for you and your team.